ROOM TO RENT, to be found at the following sites:

The municipality of the Hague
Inholland Hogeschool
Royal Academy of Art
Royal Conservatoire The Hague
DIA Duitsland Instituut Amsterdam


The Hague is a city on the western coast of the Netherlands and the capital of the province of South Holland.
With a metropolitan population of more than 1 million, it is the third-largest city in the Netherlands, after Amsterdam and Rotterdam.
The Hague is the seat of the cabinet of the Netherlands, the States General, the Supreme Court, and the Council of State, but the city is not the capital of the Netherlands, which constitutionally is Amsterdam. Most foreign embassies in the Netherlands and 150 international organizations are located in the city, including the International Court of Justice and the International Criminal Court, which makes The Hague one of the major cities hosting the United Nations.
Accommodation for students <<< more info
---

Inholland University of Applied Sciences has a growing international student population and welcomes and supports students from around the world. In an increasingly global society, we see the international market as an area of logical growth where we strive to provide educational excellence and expertise in our international programmes.
Accommodation The Hague
Finding a room <<< more info
---
The Royal Academy of Art, The Hague (KABK) is not situated in a campus and does not have university-owned accommodation. Students are required to ensure their own housing and are responsible for arranging accommodation themselves.
The Education Service Centre / International Office can answer all your questions on matters such as visas, residence permits, scholarships, international study programmes, medical care, insurance and language courses.
Want to read some information beforehand? Check out the pdf downloads below.
Information for International Students
Click here for Information for International Students (PDF) see page 8
---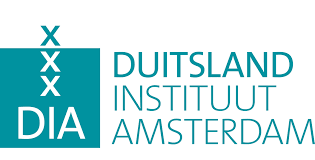 Das Duitsland Instituut Amsterdam (DIA), verbunden mit der Universiteit van Amsterdam, ist das Kompetenzzentrum für das moderne Deutschland in den Niederlanden. Wir sind im Bereich der Wissenschaft, Bildung und Gesellschaft tätig. Das DIA betrachtet Deutschland in einem europäischen Kontext und initiiert niederländisch-deutsche Netzwerke und Austausch. Unser Ziel ist es, das Wissen über Deutschland zu vergrößern und einem breiten Publikum zu vermitteln.
Ein Team aus WissenschaftlerInnen, BildungsexpertInnen, RedakteurInnen und Organisationstalenten arbeitet ständig an der Entwicklung neuer Strategien um spezifische Zielgruppen zu erreichen.